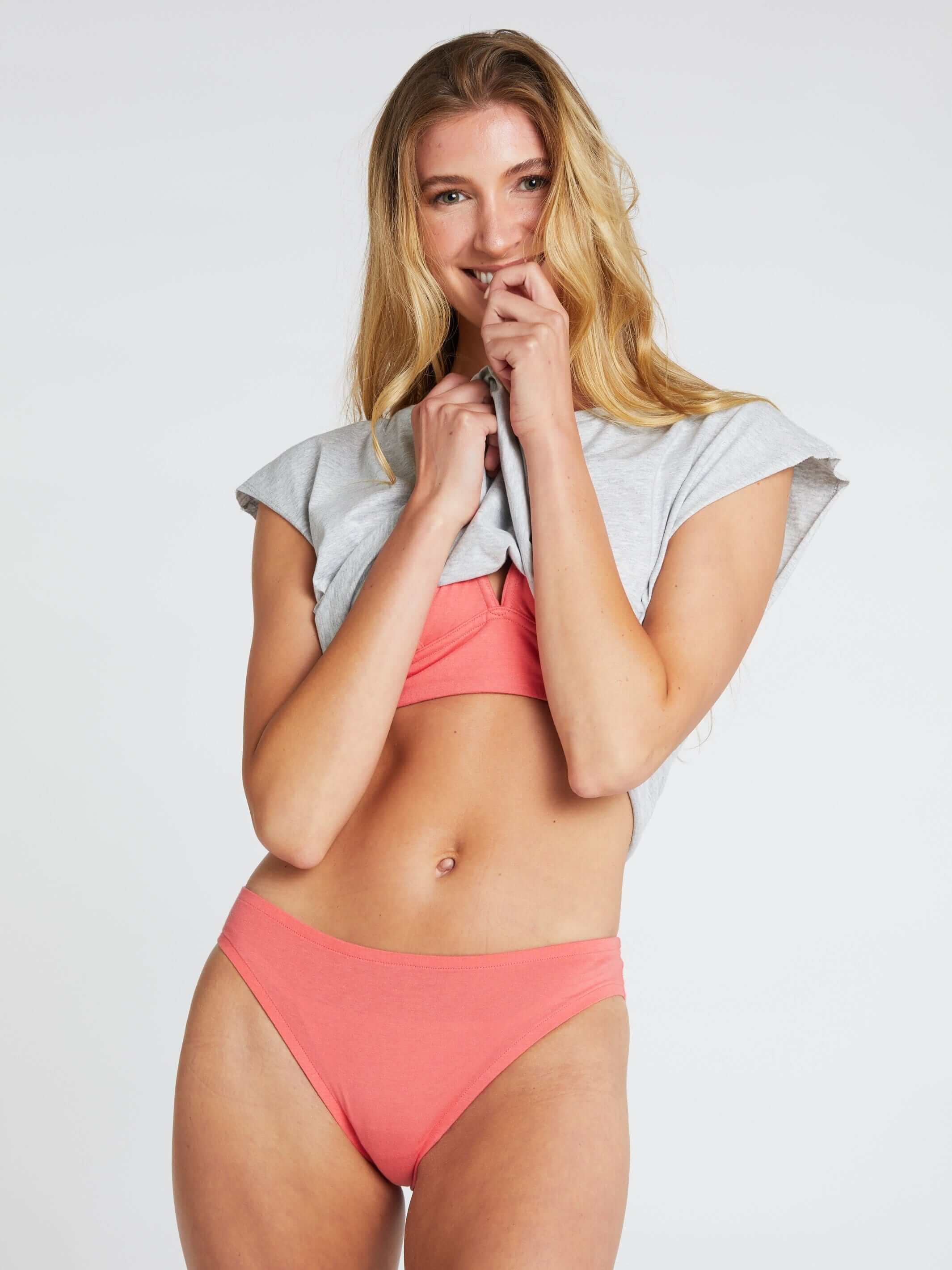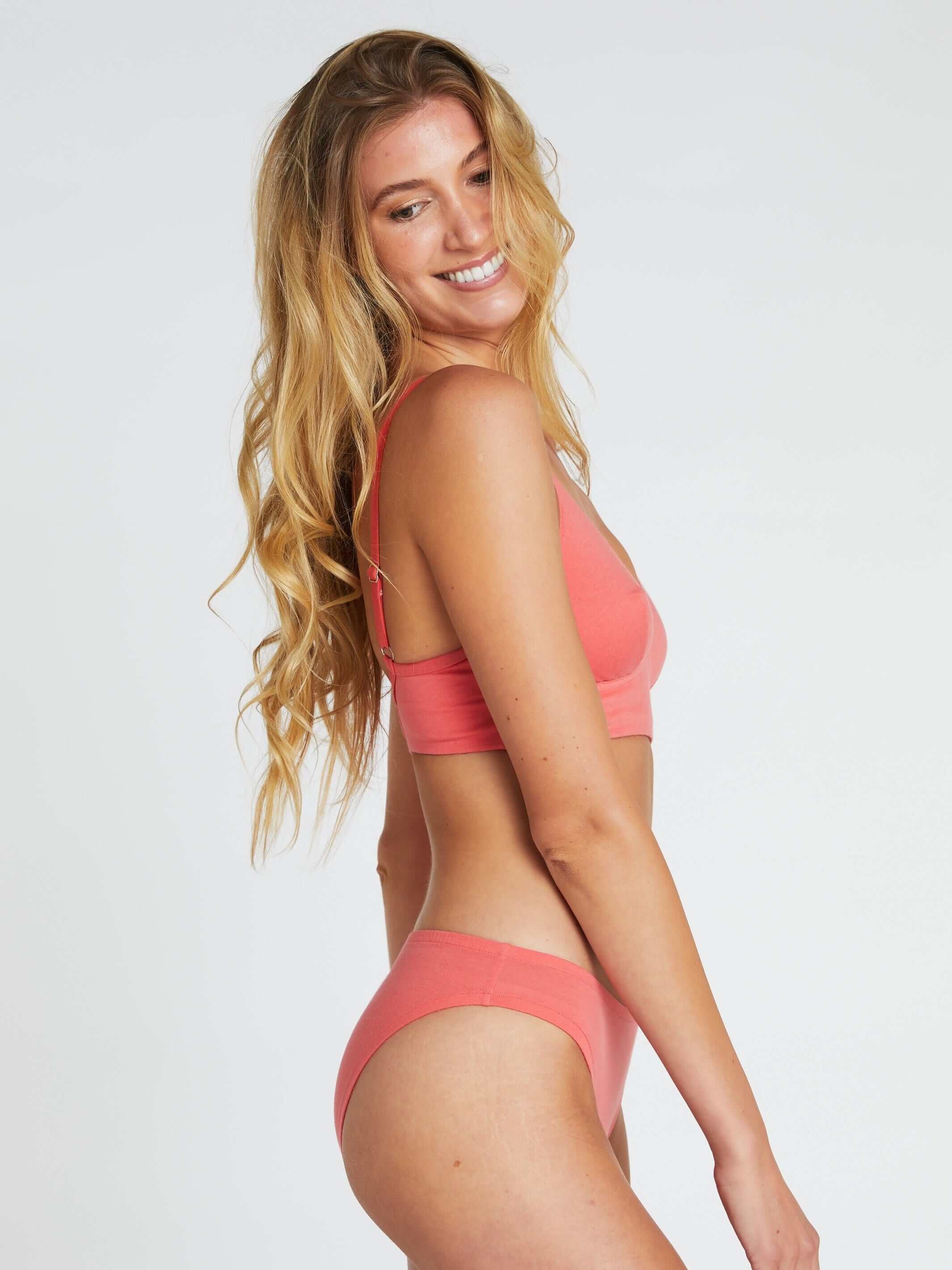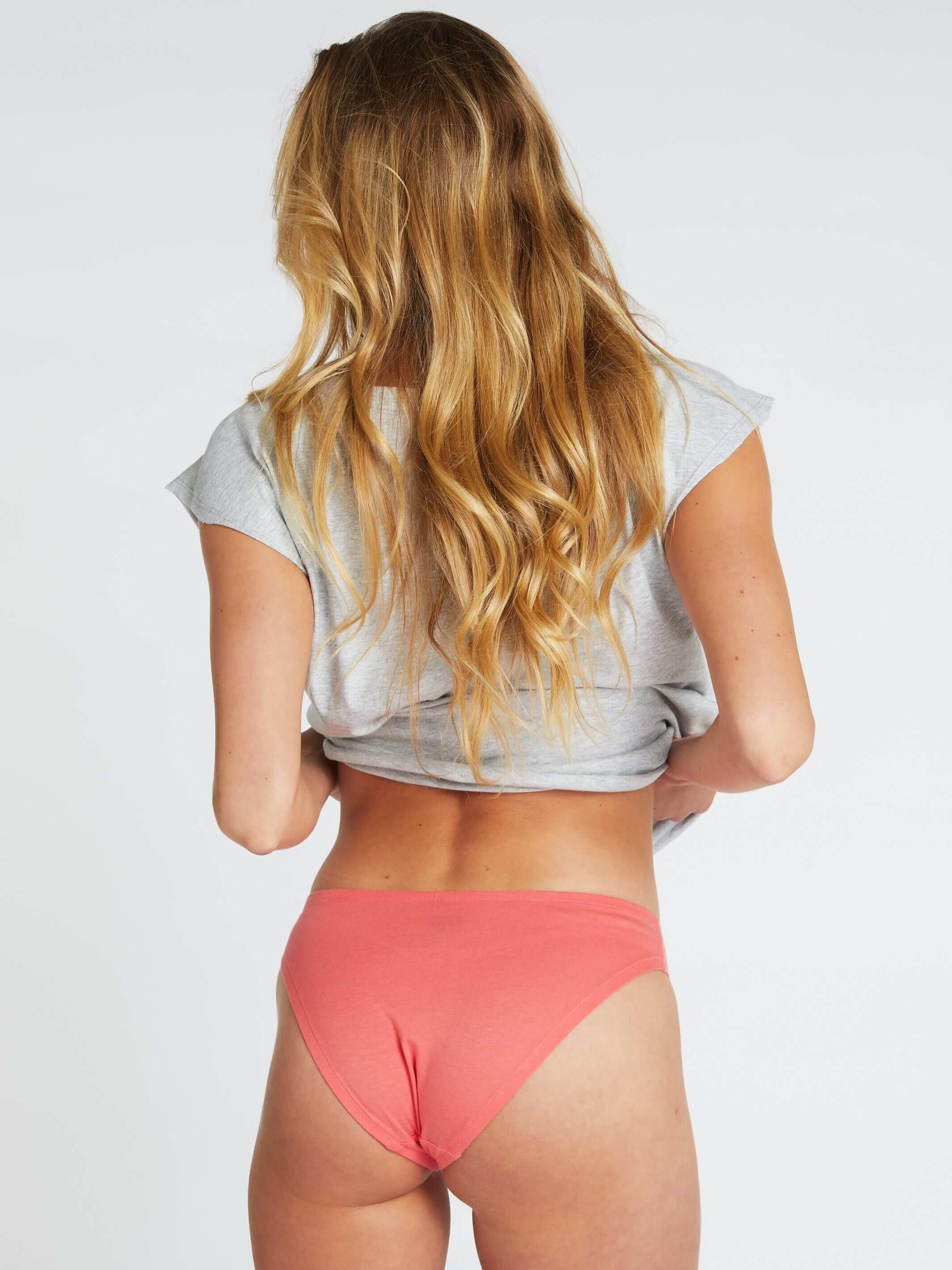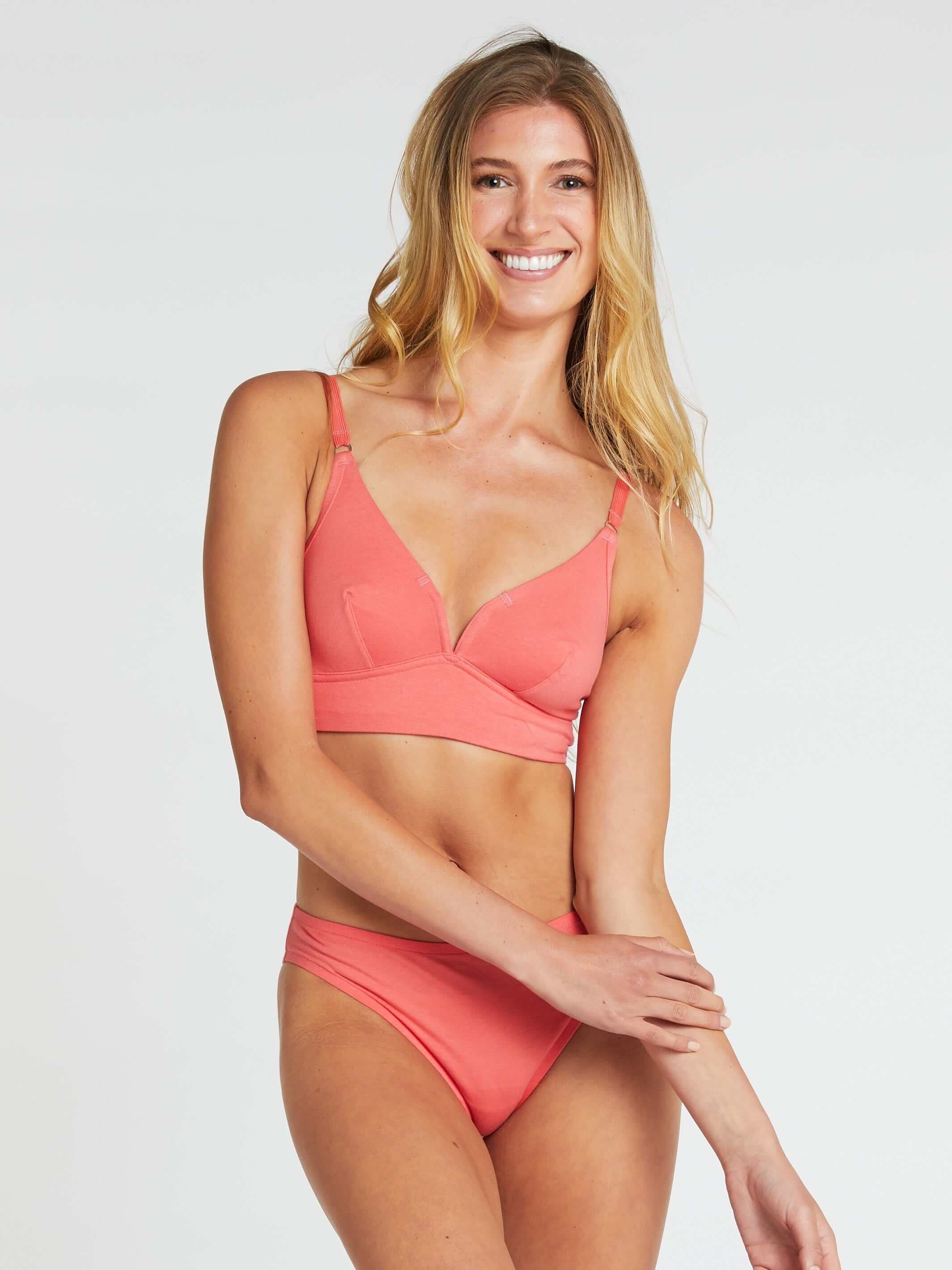 Item is in stock
Hurry! Low inventory
Item is out of stock
Item is unavailable
Description

Materials

Fit guide
A brand new style for us, hello high-leg brief!
With a higher leg at the front, and a more traditional brief cut at the back, these briefs are bang on trend.
Made in premium organic cotton, knitted and GOTs dyed in Australia
Elastic is Cradle to Cradle Gold certified Vinatur
Sewing thread is 

Cradle to Cradle Gold certified tencel
As well as being bang on trend, as ever, this brief is zero post-consumer waste. Every component from the elastic, sewing thread, and the organic cotton base fabric are designed to break down in nature at end-of-life and leave no trace. 
This brief has elastic in the waist and legs. These briefs contain no spandex in order to keep them fully compostable, so they have less stretch and you may want to size up if on the cusp.
We fundamentally believe that everything we make in the 21st Century should be designed with its end in sight. No excuses.

Body Fabric - 100% organic cotton grown and spun in India, GOTs dyed and knitted in Australia at ABMT Textiles

Sewing thread - 100% Cellulose made by Crafil in Portugal

Elastic - Cradle to Cradle Gold certified elastic from Inogema in Germany

Labelling - Low impact Pad Print labelling at our factory using Ink Cups Sapphire Ink - Oeko-Tex certified



With briefs, again, no spandex means less stretch and we also don't use stretch thread as conventional undies do (it's plastic), so you may need to size up. If pulled on too roughly or stretched on the waist, the thread can break and you don't want that!

All our briefs except Vintage Peach, Liberty Paisley and our 3 pack of Black Tencel Basic Briefs are elasticated at the leg as well as the waist. Many of our customers like the loose leg style and if so, these last two are best for you.


---
Free shipping on domestic orders over $150 and over $200 internationally
Awesome fit and super comfy and soft, highly recommend!
FAQ
What is the impact of Covid 19?
Covid has caused ongoing delays to our productions since early 2020. Sadly this can be unpredictable, things are fine and then we are suddenly 2 weeks late. If you have a pre-order, we will always email if there are delays, please check your junk if you've not heard also!  
There is also a major ongoing global issue with logistics. With significantly reduced international and domestic flights happening, it is taking much longer for anything to get anywhere so please bear with us, check your tracking, and reach out if something doesn't look right.
What happens if it doesn't fit?
For bras, we recommend you reach out before buying for the first time if in any doubt. With no spandex and a longer band, our bras can feel firmer on the body and you may want to size up a band if you're on the cusp. Our fit for sleepwear is fairly standard and described in the size guide. All returns and exchanges have to be sent back at the buyer's expense. Unfortunately we cannot take international exchanges at this point but we do take returns.
Can you exchange bottoms?
Please please please try bottoms over your undies! If they don't fit, we can exchange or refund.
What are these garments made of?
All materials for each style are featured on the product pages, but a breakdown is as follows:
Our black bra is made of Australian knitted and dyed Lenzing fibre Tencel, with tree rubber and organic cotton elastic and custom made organic cotton hooks and eyes. Our sewing thread is Tencel and our labels organic cotton dyed with soy based inks, sourced from Europe as we can't find a maker here in Australia.
Our organic cotton bras in a range of colours are made from organic cotton knitted and GOTs dyed here in Australia.
Our sleep wear is made of 100% organic cotton, knitted and organically dyed in Melbourne. Elastic is Cradle to Cradle, made in Germany and compostable. 
Will they break down when they wash?
The great thing about quality cotton and tencel is that they wash and wear beautifully. Although derived from plants, these are premium fabrics from premium suppliers that are built to last. We always recommend a short wash at a low temperature both for maintenance, and because its kinder to the environment. We hope that you will wear the sleep T shirts day and night, to get extra wear out of one wash!
Who pays additional country-specific taxes?
The buyer is responsible for any additional taxes which are due in their country of origin when the parcel is delivered. We sell tax-free to international customers. For most countries except the UK, this isn't an issue as the threshold is high, but please check your local import/sales taxes.
As of late 2021 we are unable to sell and ship to the EU due to the costs of compliance there - sorry! We hope that will change, but right now, we'd have to employ a seperate accountant to do quarterly EU tax returns.
How much is shipping?
We ship anywhere in Australia for a flat rate of $10, and internationally for $20. We offer worldwide freepost on orders over $200.
There is more about our shipping and returns policy at the bottom of the site.
Shipping, Exchanges and Returns
SHIPPING
All orders ship from Sydney via Australia Post domestically and Sendle or Australia Post internationally. Once shipped you will receive a tracking email. We ship via flat rate - Domestic $10 and International $20. We offer free-shipping for domestic orders over $150 and International over $200.
**Covid-19 impact - The virus continues to have significant impact on both domestic interstate and international parcels. 
Domestic Interstate parcels can take 10-14 days
International parcels can take 3-4 weeks
Feel free to reach out if you feel it's been too long and we will launch an enquiry with the appropriate carrier. If you think your parcel is lost, please contact us within 4 weeks domestically and 8 weeks internationally so we can investigate with the carrier.

July 2021 - Update on EU
Sadly, new VAT laws in the EU introduced this month mean it is no longer commercially viable to sell there :-( This makes us very sad, and we continue to monitor any developments that might make doing business with the EU still possible as a smaller company.
EXCHANGES
We are happy to exchange bras sold within Australia, please email hello@theverygoodbra.com if you need some help on the next size, otherwise just send a quick email to say it's coming and what you want, and return to:
Avenue Co - Work - The Very Good Bra
Level 1
28 Rodborough Road
Frenchs Forest, NSW 2086
INTERNATIONAL EXCHANGES
We are unable to process international exchanges as post is so slow we may well have sold out of what you want before we receive yours back. Please take extra care to ensure you are buying the correct size. In the US and UK in particular, the 32/34/36/38" system doesn't align with cms! Check our size chart and reach out to Lauren our virtual bra fitter if you need extra help or a zoom fitting on hello@theverygoodbra.com
Please return for a refund to the above address and let us know it's coming to hello@theverygoodbra.com. You can also try and sell it on our Facebook Buy Swap and Sell group to minimise carbon footprint and postage costs. Many bras are finding new homes this way. If you want to get a different size, you will need to place a new order on the site.
RETURNS
To minimise carbon footprint and costs, please choose carefully and email hello@theverygoodbra.com for sizing advice or a virtual fitting.
We are happy to take returns domestically and internationally where garments arrive unworn, unwashed and in original condition, so please make sure you try before you wear. We need to receive the items back within 21 days of delivery to refund (we allow extra for international returns). Again, just email hello@theverygoodbra.com to let us know what's wrong and return the items to:
Avenue Co - Work - The Very Good Bra
Level 1
28 Rodborough Road
Frenchs Forest, NSW 2086
All returns and exchanges are at the customer's own cost so please select carefully and reach out for sizing help before buying.
**We sell tax-free to international customers, but we cannot refund international sales that have been rejected on the basis of your local customs charges, so please research carefully before buying.